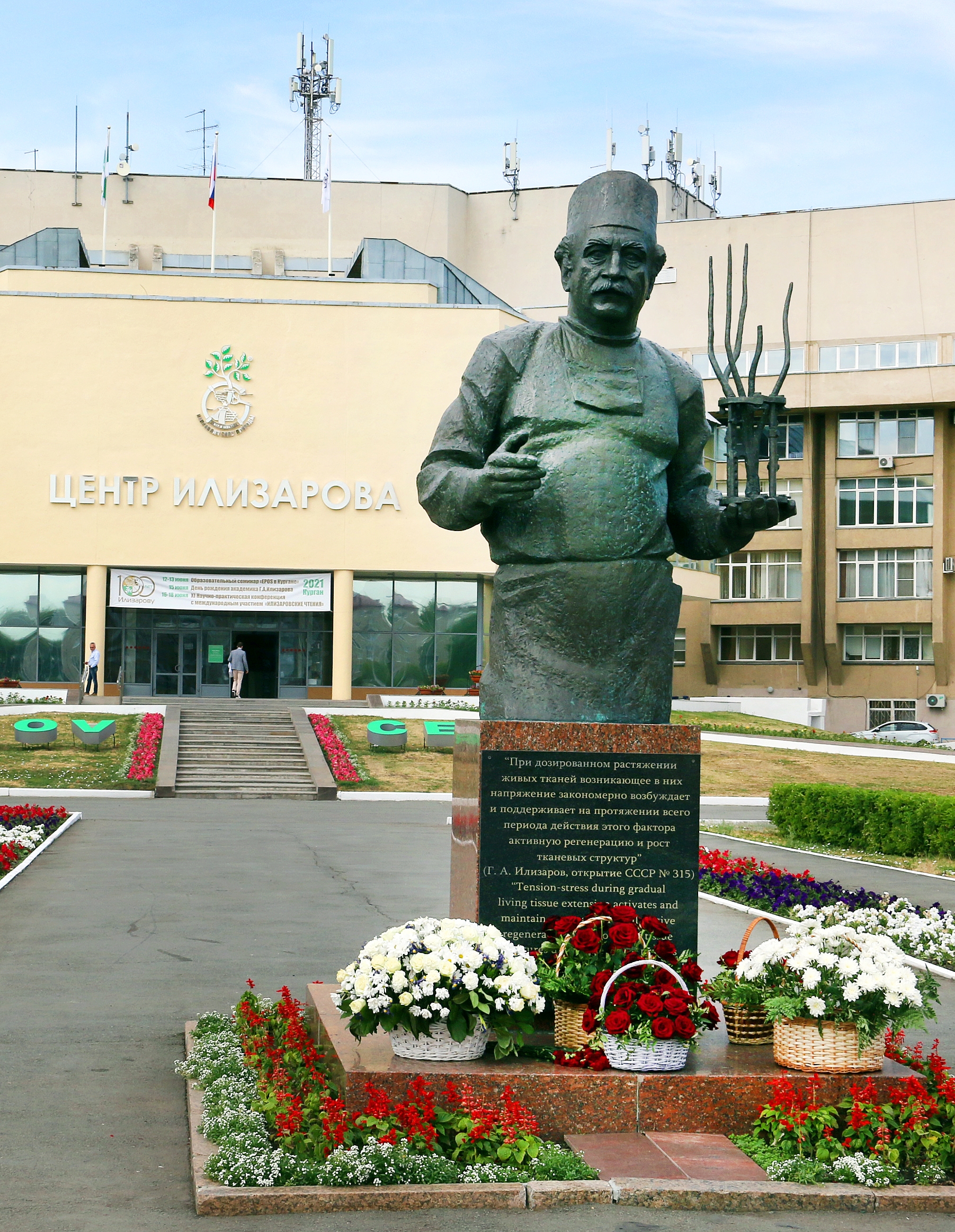 Kurgan is the capital of orthopaedics. This is the city where the Federal State Budgetary Institution «National Ilizarov Medical Research Centre for Traumatology and Ortopaedics» Ministry Healthcare was established and it can serve a symbol for Kurganskaya Oblast.
The history of the Centre started in the year of 1951 with an idea of external fixation device to repair bone injury and developed to the Ilizarov Centre that is known all over the world and it bears the name of an outstanding orthopaedic surgeon and inventor Gavriil Abramovich Ilizarov.
Annually over 12 000 patients with orthopaedic and neuroorthopaedic conditions can receive treatment at the Centre.
Consultation and diagnosis center there allows for 250 daily appointments to be made, and the hospital accommodates 800 beds.
The strong team of the Kurgan Ilizarov Centre is staffed with 1500 highly qualified professionals including 4 Academicians, 10 Professors, 34 Doctors of Medical Sciences and 93 Candidates of Medical Sciences.
We would be happy to help the patients of any age – from infants to elder persons.
Our hospital is equipped with modern facilities to provide diagnosis and treatment for people suffering from:
severe spine malformations;
congenital and acquired diseases of limbs and joints;
injuries of any localization, posttraumatic conditions;
orthopaedic complications in systemic (osteogenesis imperfecta, phosphate diabetes), neurological (CP), endocrine diseases, storage disease (mucopolysaccharidosis), and related pathology;
severe traumatic injuries of bones and joints, including gunshot injuries and their sequelae;
complicated and complex complications after surgical treatment of orthopaedic conditions at other hospitals.
The Centre incorporates an infection osteology hospital with a unique 40-year experience of managing most challenging cases of osteomyelitis.
Joint replacement of major and small joints, revision arthroplasty, prosthesis of lost limbs, orthoses of different types can be performed at the Centre.
Medical services of the Kurgan Ilizarov Centre has been recognized at one of the best in the world that was confirmed by Certificate of conformance for scientific products and medical services under 9001:2015 International Standards.
Guided by motto "Minimum pain and fear, maximum partnership" we undertake to provide a friendly environment for all our patients including kids and people with impaired physical mobility
The Ilizarov Center offers extensive educational opportunities for medical students, residents and postgraduate and practicing orthopaedic surgeons with short- and long-term training programs that expose trainees to the latest advancements in orthopaedic techniques.
Unique discoveries and innovations of the researchers working at the Kurgan Ilizarov Centre put the institution at the forefront of the Russian traumatology and orthopedics.
Highly professional surgeons and researchers, modern equipment, unique techniques used for diagnosis and treatment of patients, comfortable conditions and caring attitude of the medical staff greatly contribute to successful work of the Ilizarov Centre/